The display of any device plays the most important role in giving a refined experience to the end consumers. It is that part of a device with which we interact the most. It brings life to those, otherwise boring, works and simple processes. Even while consuming some content, a good display always amuses the viewers and there's nothing that can replace the superior experience one can get from it. There are different kinds of displays such as an LCD panel, LED display, OLED display, AMOLED display, etc. Each of these displays has its own benefits and drawbacks. While the TFT display is cheaper than the rest and helps in the cost-cutting of the final product, it causes harm to our eyes and the colors displayed by it aren't that great. This drawback is something that AMOLED displays don't have but in exchange, they cost more and can greatly increase the price of the final product. Just so you don't get the wrong idea, we aren't discussing displays only but Monitors in general. Though the display plays the biggest role in a monitor, there are many other aspects that affect its overall efficiency.
10 Best Portable Monitors to buy
Choosing the correct monitor is a crucial decision for everyone because a wrong choice may cause many problems. We usually don't buy a monitor too often because of its usability and prices, so it's important to choose wisely and not to make any half-baked selection.
So just as you'd expect from us, we'd suggest to you the best portable monitors which you should consider before buying a new one. These portable monitors are ranked from the best to decent ones. So, here we go:
1. Desklab Ultimate Monitor
There comes no second thought, other than WOW, once you come to know about this best-in-class portable monitor. What's so good about it? Well, it has got a touch-sensitive, IPS LCD panel. That's something decent when you look at its price of $400. But the mind-blowing part is that this IPS LCD panel has a 4K resolution.
Trust me, there's nothing else which matters more than the display in a monitor and this portable monitor has got the best one by far. It's compatible with all Operating Systems and most gaming consoles too have built-in speakers and a large display…an ideal package for gamers, developers, designers, and businessmen too. If you feel that this 4K Ultra HD resolution is something that you can skip for a lot less cost, then you can also look for its Full HD display version. It has got everything just the same as the UHD version, but at a cheaper cost of $300. Can you even resist the deal?
2. Asus ZenScreen Touch (MB16AMT)
Probably one of the best portable monitors you can find for yourself which has almost every single thing that keeps people in awe, with some added unique features. It boasts a 15.6-inch, 1080p IPS LCD panel. The fact that this 15.6-inch display is a touch-sensitive panel, makes this monitor a great choice for anyone. This is one of the few monitors in its price range that offers you a touchscreen experience. Moreover, it has a built-in, rechargeable battery, it's like the complete solution for everything you'd want. This portable monitor costs around $350, which might be a bit higher when compared to Desklab's Ultimate Monitor.
3. ViewSonic VG1655
Sometimes brands aren't able to offer anything extraordinary or new with their products. So, what do they have to offer then? Well, they can offer decent specs with some added benefits at an incredible price, just like ViewSonic VG1655. It has a decent IPS LCD panel with a resolution of 1080p. But the things which stand out for it are the extra accessories embedded in the portable monitor itself. Upon buying the ViewSonic VG1655, you get a built-in stand and a five-way mini-joystick controller with it. It also provides a sophisticated onscreen display which can be a deal maker. But above everything else, it's price is what catches everyone's attention. You can get the ViewSonic VG1655 for just $185, that's crazy!
4. HP EliteDisplay S14
Everyone knows how famous HP is when it comes to its products. They always try to deliver the most stylish yet useful device. Their EliteDisplay S14 is no different. It packs a big, 1080p IPS LCD display and can be connected with any device using a type-C cable. The display is anti-glare and it is something that might attract many users. Anti Glare displays can be used directly under harsh light and they'd not give you any trouble with reflections which you'll usually see with other displays. It looks premium, feels premium and everything else about it is premium. It has a thickness of less than 9mm and weighs 1 kilogram, probably the most comfortable dimensions for a portable monitor. You can get all these benefits at a price as low as $215…Woah!
5. Lenovo ThinkVision M14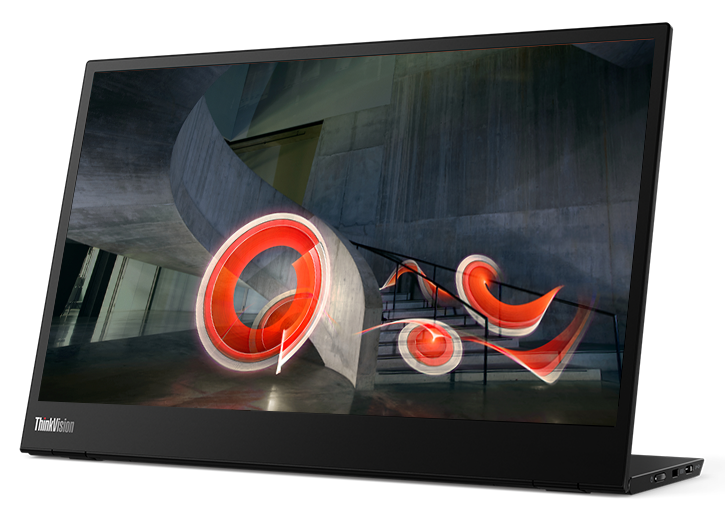 Lenovo has been the leading company for ages when it comes to laptops and monitors. This trait of Lenovo is seen even in their ThinkVision M14. It can be a great option for anyone who wants a simplistic yet complete portable monitor. For the price tag of $250, it comes with a high-quality IPS LCD panel that has a resolution of 1080p. The display is also anti-glare, which is a great thing. . So, for its price, this portable monitor is a decent offering.
6. AOC I1659FWUX
Yeah, it'd take ages to learn the name of this decent portable monitor. It has a normal-sized, 15.6-inch IPS LCD panel that has a full HD resolution. It comes with blue light technology which can be a good way to take care of your eyes while working with the display. There's nothing much different about this decent offering which also has a decent price of $255.
7. Asus ZenScreen Go (MB16AP)
Just a low-priced version of Asus ZenScreen Touch, Asus ZenScreen Go doesn't feature a touch-sensitive panel. Rest everything about it is almost the same as the former. It costs around $299, which might sound a bit on the heavier side when you consider the features.
8. Wacom Cintiq 16
Everyone is a fan of Wacom's industry-leading drawing tablet but not many people can afford them. So, the brand just rolled out a cheaper version of Wacom Cintiq Pro. It boasts an IPS LCD panel with a resolution of 1920x1080p. With the portable monitor, you also get a drawing pen which would help young enthusiasts a lot. It is priced at $650, which is pretty affordable when you compare it with the competitors.
9. AOC I1601FWUX
Yet another long name…get your notebooks ready! This portable monitor is for all those laptops that support DisplayPort over USB. It boasts a regular 1080p IPS LCD panel which has a really low colour gamut and thus, it's better to be used for business purposes. You can get this portable monitor at a price of $200.
10. Espresso Display
Let's be honest, anyone who just wants it for show or has a lot of money to spend is gonna love it because it really costs a lot. You'll have to pay $350 for the panel alone. It has a great, vibrant touch screen panel which really is the best among the bests. It looks really professional with thin bezels and great dimensions. But, you'll have to pay extra for the stylus and other accessories, which might be too much after paying $350 just for the panel.
So, here ends our list of the best portable monitors. We've tried to rank all of these monitors as fairly as possible.
Please make sure to get the best one for you so that you don't regret your decision in the future.
Feel free to ask any questions or post any comments and we'll make sure to reply.