This post is a listicle of best 15 Video Editing apps for Windows 11
You can make use of Photos app on Windows 11 to trim, cut, and give effects to your videos
some of the video editors given here are free and some contains in-app purchases to give special effects or features to the video and some apps like Adobe are fully paid, but worth it.
Did you ever watch a video on YouTube with cool graphics, animations and wondered how's that even possible without large set-ups? Though all of us aren't going to work in Hollywood, it'd be great if we can match their level of video editing. Nope, it isn't gonna cost you a fortune for editing your videos on such a high scale. You might've to pay a little amount or even none to be able to edit your videos like never before. This post will help you edit videos using the best video editors for your Windows 11 PC.  
So, how's it possible?- With some great video editing software.
Where can you find them?- Dude, you're already at the best possible place for it!
Top 15 Video Editing Apps for Windows 11
Just like our previous article, Best Photo Editing Apps for Windows 11, this article has the best Video Editing Softwares for Windows which you can use and train yourself to be a God-level editor...umm, is it over-exaggeration?
Here's the list of the best video editing software you'd find on the web: 
1. Microsoft Photos
What else could be better than a free, Microsoft option for editing your videos? It has got everything a new user would ever need, including a clean user interface, many basic and advanced editing tools, systematic organization of your files, and whatnot. But the best part is that it is completely free to use. Just think how great software would be if it is specially optimized for your pc, has zero ads, clean UI, and many useful editing features. It definitely deserves to be tried, why? Because it's already there on your pc, no need to download it from anywhere. Microsoft Photos adds extra benefits by also being a photo editor, the perfect two-in-one software for you.
2. Adobe Premiere Pro:
Hands down, the best video editing software which lacks no features at all and can literally get you the throne of video editing God. The only two problems with Adobe Premiere Pro are its price, which can be justified by its great capabilities but then too, it is a bit heavier on many pockets; and its user interface that might not be comfortable for new users. This is the most powerful video editing software and can do almost anything such as using chroma key for green screening, adjusting videos, adding multiple layers of images or videos or filters, and seriously many things. If you're a professional or aspire to be one, there's nothing better than Adobe Premiere Pro for you. 
3. CyberLink PowerDirector
The two problems with Adobe Premiere Pro are solved by CyberLink PowerDirector by reducing the extra powerful features to some extent. CyberLink PowerDirector costs way less than Adobe Premiere Pro and has many essential features which are pretty much comparable to those of Adobe Premiere Pro. Furthermore, the interface is very user-friendly and even a new user can easily start and learn to edit. Though CyberLink PowerDirector has many great editing tools and costs really low, it still isn't as capable as Adobe Premiere Pro if you're a professional. It'd be a great choice for any newbie since it can do almost all the complex editing while keeping it easy for you and your pocket...cool!
4. Corel Videostudio Ultimate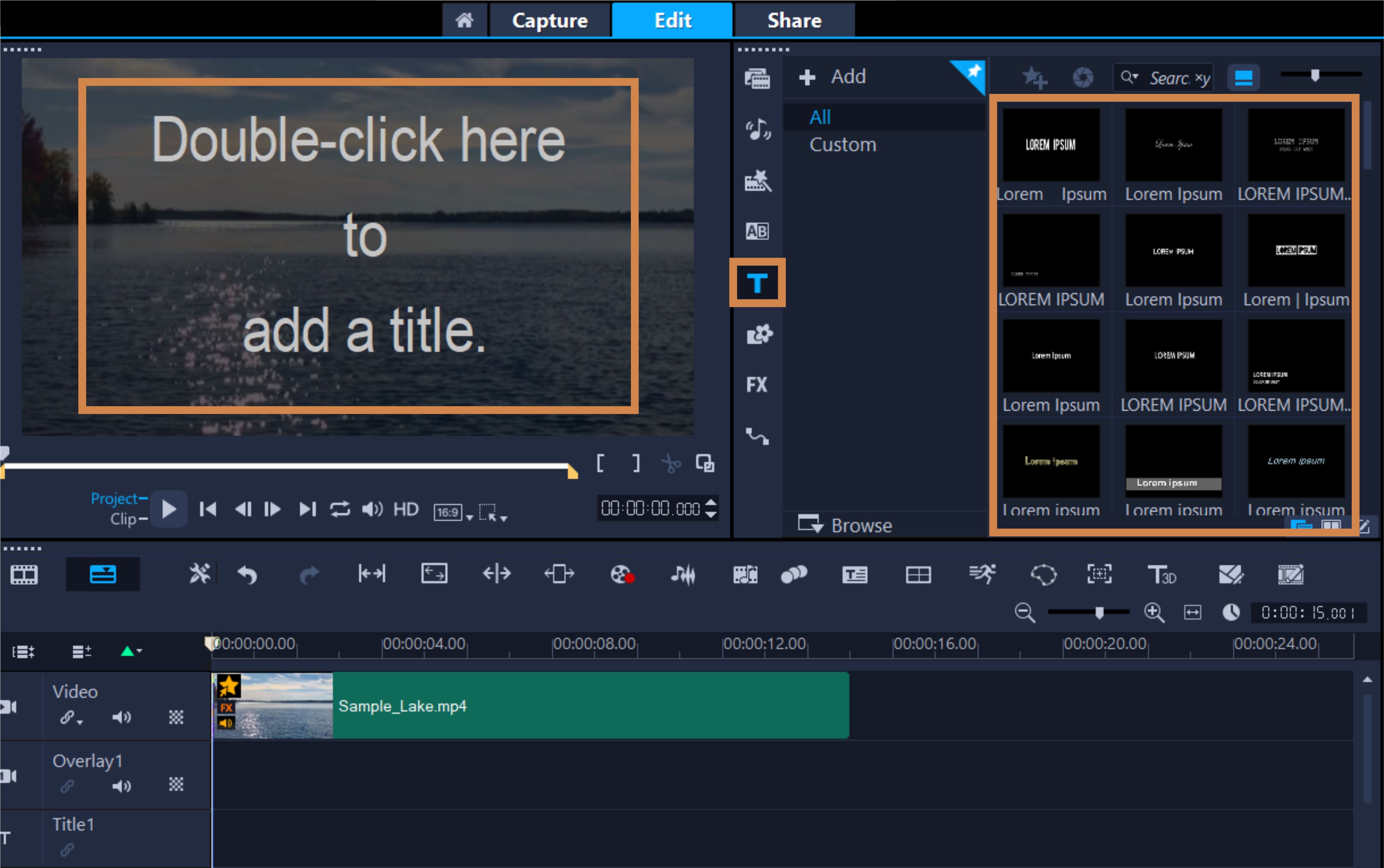 Slow video rendering speed is one of the major problems with many video editing software but thankfully, not with Corel VideoStudio Ultimate. It has probably one of the fastest rendering speeds, meaning you'd be able to render your videos within a jiffy. The interface is quite simple, clear, and user-friendly which allows you to learn while working on your videos. Videostudio Ultimate also supports 4K Ultra HD videos, 360° VR and even 3D media...that is insane! It also has many motion tracking and stops motion tools which would add up to the benefits you'd get. All in all, Corel Videostudio Ultimate is the perfect package for video editing with simple UI, great features, fast rendering speeds, and above all, a seriously affordable price. 
Try Corel Videostudio Ultimate
5. FlexClip Video Maker
FlexClip is an online Video maker and editor, this can be your best choice for video editing on Windows 11 browser, if you don't want to install any app. Using FlexClip video maker you can choose a template or start working on a video from scratch. This tool is totally free, has thousands of templates, 3M+ animated text and elements and more than 4M stock assets, what else do you need? Also FlexClip is trusted by Microsoft is another reason to use this video maker on your Windows 11 PC. You can also use FlexClip for Movie making, Slideshow making and Screen recording.
6. Pinnacle Studio Ultimate
Another great offering from Corel, Pinnacle Studio Ultimate mainly focuses on prosumers, i.e. consumers who want near-pro editing in their work. Pinnacle Studio Ultimate lets you edit your videos in almost all the professional ways and there's really less to complain about in the software. The user interface is clean and lets you navigate all the tools easily. Pinnacle Studio Ultimate is even more powerful in video editing when compared to Videostudio Ultimate but the price is a bit on the higher end. So, if you want software that provides an experience that is near to the professional software while still being user-friendly, just check out Pinnacle Studio Ultimate.
Download Pinnacle Studio Ultimate
7. Adobe Premiere Elements
A user-friendly yet super powerful video editing software from Adobe, Premiere Elements has everything one requires for marvelous editing. It follows the trails of CyberLink PowerDirector and gives you all those amazing features you'd probably ever need while being a nerfed version of Adobe Premiere Pro. It may not be the most powerful video editor, but can be one of the best combinations of the most user-friendly interface and quite powerful editing tools. The price, when compared to Adobe Premiere Pro is less too with a one-time payment for lifetime access. So, anyone who wants to experience Adobe's editing software with greater user-friendliness and easy but powerful editing should definitely give it a go.  
Download Adobe Premiere Elements
8. Movie Edit Pro 2020 Plus
Movie Edit Pro 2020 Plus is perfectly in the middle of being a feature-loaded software and having an easy-to-use interface. It can be a perfect tool for anyone who has just started editing videos and can work even with an ample amount of tools. The price is also a bit less when compared to the other competitors, though it may not be the most value for money software out there. It needs improvement in many aspects, especially an addition of some better tools, considering the price you'd pay for it. That doesn't mean Movie Edit Pro 2020 Plus isn't useful, it can get the job done for you.
Download Movie Edit Pro 2020 Plus
9. Nero Video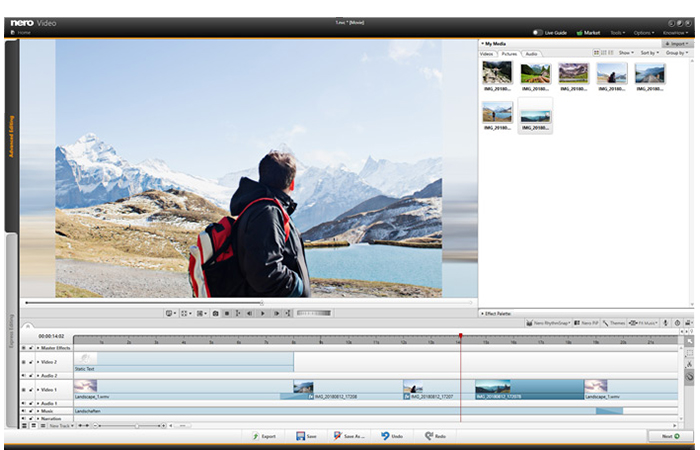 A good, affordable video editing software that has many middle level editing tools. The software handles many complex editings and lets you use basic as well as advanced tools for editing your videos. The only problem is the outdated user interface. Most of the users decide to use a software after looking at its UI because that's what you interact with the most. Though Nero Video has many great tools and a really low price, the outdated interface isn't compelling enough to attract users. So, if you don't mind the UI, please try it for free for 15 days and see for yourself if it's good for you. 
What do you get after packing a load of great effects and a seriously pleasing interface? Yes, Wondershare Filmora! Probably one of the most value-for-money software available on the web, Filmora is a one-stop shop for every enthusiast. It may not be a powerful video editor with advanced editing tools, but has many trending and cool looking effects which would add a different feel to your videos. Besides, it can handle every task of small editings, such as cropping, splitting, merging, adding layers, etc. Wondershare Filmora is super value for money considering it's price and the features you get with it. The user interface is also fun and easy to use.
11. Vegas pro
The history with Vegas Pro hasn't been quite good. Earlier, only professionals with great experience of editing were able to use this really complex software and it wasn't user-friendly to begin with. But recently, Magix, its parent company has started working on it and tried their best to make this a much more user-friendly software. Though it might not be a great option for young enthusiasts now, it has surely gotten better from the past. The price has also been reduced and therefore, any professional can be fond of this powerful software. So, with great editing tools, clean UI, and a decent price, Vegas Pro can be a good option for anyone who has been in the game for some time. 
12. Magix Movie Edit Pro Premium
A not-so-amazing video editor with many advanced effects and tools, Magix Movie Edit Pro remains mediocre on the list. It supports 360° and 4K content, vertical video formats, 8K editing, motion tracking, stabilization and on and on. One of the most antique features of Magix Movie Edit Pro is its in-app plug-in store. The rendering speed is also below average when compared to the other software, so it might be a problem for many users. The user interface is clean, simple, and decent too. There's nothing quite extraordinary about Magix Movie Edit Pro, so you can try it for yourself and see if it suits you. 
Download Magix Movie Edit Pro Premium
13. VSDC Video Editor Pro
If you're an enthusiast and aren't willing to spend a lot for some minor video editing, we'd like you to consider VSDC Video Editor Pro. This is one of the least priced softwares on the list and provides a large arsenal of advanced editing tools. A few years back, it lacked many features and was really hard to get recommended. But recently, it has become better and got many new features like HSL colour editing, motion tracking, text animation and many more. It even costs surprisingly less with a listed price of $19.99. So, what's the problem with the software? Well, it doesn't provide the ease of use while editing, which destroys every good point about the software. The interface is quite difficult to navigate and has many small sized buttons for choosing the tools. It becomes quite problematic for anyone who's using VSDC Video Editor Pro for the first time. So, if you can get used to it's UI, then this software might be the one for you. 
Download VSDC Video Editor Pro
14. Lumen5
Video editing has been a great pain for anyone who doesn't know a single thing about it. So, softwares like Lumen5 are required to help those people. Lumen5 creates attractive videos for you just by entering text. Once you enter your text, Lumen5 adds different music, images, and transitions to make a great, appealing video within minutes. This is all the work of Artificial Intelligence. Just like Luminar AI, Lumen5 too does everything for you using AI. It even has a free version which would give you a brief idea of what this software is capable of doing. 
15. InVideo
InVideo is an online video editor which has 4000+ custom templates and 1 million+ images and videos for creating superb projects for you. It saves the space on your PC which would have been used by any other software and weighs less on your pocket too. InVideo might not have the best in-class powerful tools for editing, but can be a great choice for enthusiasts and small entrepreneurs. The templates which you get on the platform are free to use and can be really helpful. There's a free version of the software too which might even be sufficient for some users. So, make sure to check it out. 
Bonus: Openshot Video Editor
If you're looking for the best, free-to-use video editing software, Openshot is everything you'd love to use. It has got many useful features which are hard to believe when its price is considered. There's no other software that provides as much value as Openshot. It is an advanced, professional-grade video editing software that has great uses such as 3D Video Editing, Audio Capture, Speed Adjustment, Split / Merge, Text Overlay, and many more. Since you'd be paying nothing, Openshot is worth giving a try.
Ready to start using the best Video editor on your Windows 11?
So, here ends our list of the best video editing softwares for windows. All of these softwares are useful in one way or the other. Some might be at the professional level of editing, some at semi-pro and the rest at enthusiast level. Therefore, you can choose any particular software as per your liking and requirement. There are some free versions of different softwares too which might be more than enough for some users, so there'd be no need for spending even a penny. We've tried our best in arranging these softwares according to usability and now it's your turn to choose the best one for you.
Feel free to ask any questions about the tools mentioned or any other comments are welcomed too.