Viewing, sharing, reading, scanning, and interpreting data has taken countless forms over the past few years. There was a time when writing and talking were the only two ways to transfer data from one person to another and as we all are aware of the drawbacks of these ways, we also know the reason why we needed new ways for the purpose. Then we entered the era of computers and everything started to change. Those verbal or written data forms were changed to 'typed' data forms and from that point, we have seen exponential evolution of technology. Well, this is not a history class so yeah, sorry!
We can't change the fact that digital data sharing has been a key in developing the modern world. So you all might have heard of Portable Document Format, right? I understand, nobody calls it by its full name so we'll call it PDF too. PDFs have been a great help since the day when they were released in 1992 by the American multinational computer software company, Adobe. Till now, PDFs have been used countless times by countless numbers of people on countless devices to share or store countless pieces of data. It would be safe to assume that PDF is the most widely used data format over the globe. 
Best 10 PDF Readers for Windows 11
So, to read and edit any PDF, you'll surely need two things. First, a device that is compatible with PDFs, what is better than our Windows 11 computer? Second, we need the best app to read PDFs on our computer. Given below is the list of the 10 best PDF reader apps for Windows 11 which cannot be outdone by any other apps on the Internet. These apps are not arranged with any ranks in mind, so all of them are better or worse in their own ways. Be sure to check them all out and find the best PDF reader for Windows 11, for yourself: 
1. Browsers (Chrome, Edge, Safari)
Yes, You don't need a separate app to read PDFs when you have any web browsers on your Windows 11 PC. Google Chrome, Edge, Safari, and Firefox built their browsers to support PDF files smoothly. When you open a pdf file in Windows 11, by default it will open in Microsoft Edge. You can change this to Chrome or any other browser.
You can also use PDF reader extensions in Google Chrome for more functionality.
Read more: Enable PDF mode in the browser using Lifewire
2. Adobe Acrobat Reader
Quite frankly, Adobe Acrobat Reader provides some of the best basic features which you will find in a PDF reader for your Windows 11, for completely free. It does not have the most advanced tools and stuff, but the Adobe Acrobat Reader is the best at what it does. Despite having limited features when compared to many other PDF reader apps, it still manages to be in the ranks of the best…there must be a reason for it, right? But, there is a paid alternative for the users too. Though it costs so much that your pocket might even start screaming, Adobe Acrobat Pro DC provides some of the best and most advanced features in the market. If you are not an Adobe fan and want to get the most value for your money, it would be advisable not to opt for Adobe Acrobat Pro DC as there are better alternatives to it at a lesser price. The Adobe Acrobat Pro DC also provides a 7 day free trial to its users and it'd be better to at least experience the app itself. Later, you can buy the full version for around $27 per month or the pre-paid yearly plan for $192. But if you are not too much into professional-level works with PDFs and just want the best experience with the most basic features such as viewing, editing, creating, and sending PDFs, then the Adobe Acrobat Reader can be the best choice for your Windows 11 device. 
3. Foxit PDF Reader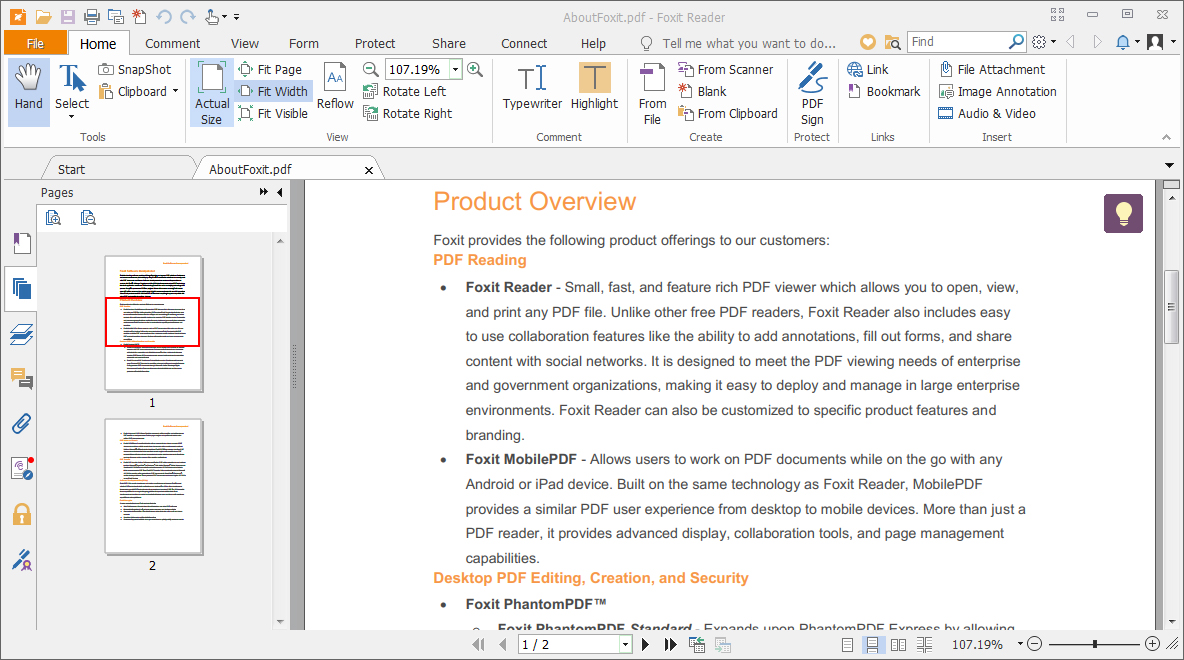 A product of Foxit Software Incorporation, Foxit PDF Reader is one of the most famous and beloved PDF readers. It is one of those few apps which can be compared to Adobe, the best in the field. Foxit PDF Reader is available in the form of a free-to-use app that lets you create, read/view, share, edit, print, and even digitally sign PDF files in many languages. The app is compatible with many operating systems such as Windows, iOS, Android, macOS, and Linux too. So, you can easily use the app over multiple devices too. There is no need to worry about your privacy too because the app ensures everything with Trust Manager, Disable JavaScript, DEP, Security Warning Dialogs, and ASLR. Give it a shot and see if Foxit PDF Reader suits you. 
4. Soda PDF
A rather expensive app for the work, Soda PDF gives you chills just like its name. The app charges you a lot and tries to justify the price with a decent package of a good user interface and pretty normal features. Soda PDF provides three different plans to its users which are- Standard, Pro, and Business. All three of these plans are charged annually. The Standard plan, being the cheapest on the list of these three, costs $6 for a month and $48 for an annual plan. The Standard plan offers very basic capabilities such as viewing, editing, creating, and converting different file formats to PDFs and vice versa. The higher variants have these features along with some more added benefits. All of these plans allow you to use your Soda PDF account over two devices at the most and you can switch between them for limitless times. With the Soda PDF app, you also get an Optical Character Recognition (OCR) feature for free that lets you scan an image and create a PDF file from the text present in the image. No doubt these features are cool but looking at the price you have to pay to use them, makes it a difficult choice…right? 
5. PDFelement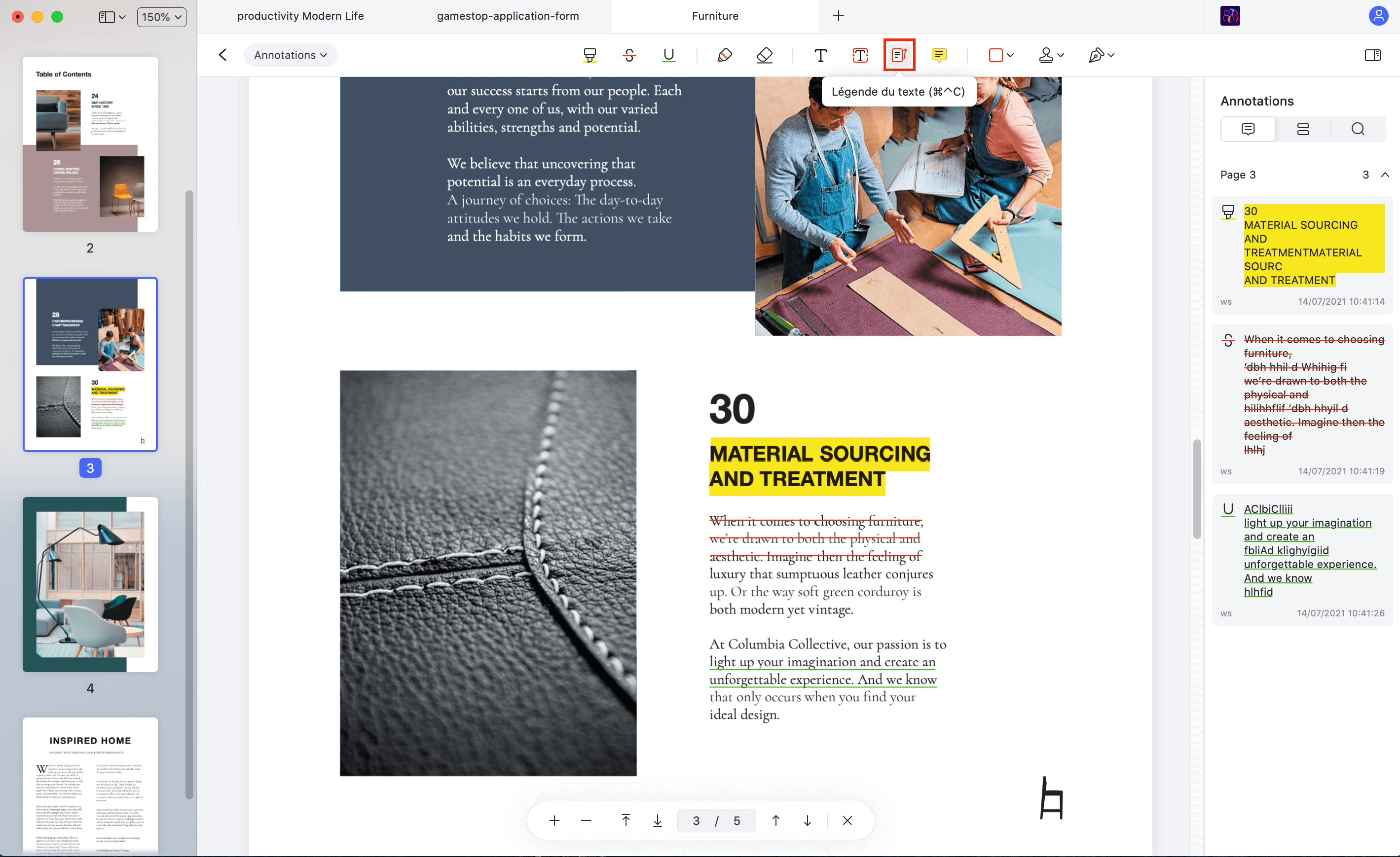 Another pay-to-use PDF reader for Windows 11 which is, fortunately, a direct substitute to the way more expensive, Adobe Acrobat Pro DC. You do not get to use PDFelement for free, true but lemme tell you something…it charges way less than the Adobe Acrobat Pro DC and provides almost all the same features. Unbelievable, isn't it? Wondershare is the parent company of PDFelement and just like the photo and video editing department, Wondershare has made sure to compete really well with the giant, Adobe. With PDFelement, you get two different plans, Standard and Pro. The Standard plan is very much limited and has many features missing when compared to the Pro plan but, both of them are really cheaper than Adobe's offering. The Pro plan can be bought for either $10 per month or $79 per year. You get the basic functionalities with both the plans such as viewing, editing, creating, annotating, and even commenting on PDFs. These plans also allow you to convert PDFs to another file format such as a Word document and vice versa. The PDF files can then be exported to Word, PowerPoint, or Excel. Though the Standard plan is not bad in itself, the Pro plan has some of the best features and goes even beyond it. The most popular features in this plan include OCR, Bates Numbering, extracting data from PDF forms, digital signatures, and sensitive info redaction. But the twist is, these features are not even half of what the app has to offer. So, it would be best for you to try the app itself and find out if this is the one for you.
6. Xodo PDF Reader and Annotator
Xodo PDF Reader and Annotator is one of those PDF reader apps which have such features that commoners may not even know about. Though this app is suitable for professionals, thanks to its great arsenal of advanced features, it is also a free-to-use app and thus, catches everyone's eyes. It supports some of the major operating systems and it is available as an extension for Chrome and a web app on different web browsers, for example, Internet Explorer, Mozilla Firefox, and Chrome. With Xodo, you can edit your PDFs like never before. When you start editing a PDF in Xodo, you enter a virtual workspace where you can write, edit, highlight and annotate different PDFs with ease. Another unique feature of Xodo is its chat feature which may assist you in contacting other users too. You can also sync PDFs from Google Drive and Dropbox so as to instantly access any previously saved documents. There are probably many more features that you'll have to experience yourself with Xodo. Now just try the app once and if you find the app to be good enough to work on your Windows 11 computer, you're ready to go!
7. Sumatra PDF Reader
There is a high possibility that you might not have heard of this simplistic yet feature full PDF reader, this is one of the best PDF readers for Windows 11. For many unknown reasons, this PDF reader is not too much famous among the users but, whoever has used this PDF reader or is currently using it, knows how great this one is. It is, probably, the most lightweight PDF reader on the list for Windows. It supports many and seriously, many file formats and lets you work with all of them, altogether. It is free to use and an open-source document reader. The most fascinating part is that this document reader takes so little space on your Windows 11 computer that you might not even notice it being there. Sumatra PDF Reader also has a portable version that takes even lower space on your computer…as low as about    5 MB. It works amazingly fast and boots up so faster that you might want to complain about other apps, just over the loading time. Sumatra PDF Reader, currently, supports more than 65 languages and translations. It is a golden opportunity to try this document reader and we are sure that you will be fascinated too.
8. PDF-XChange Editor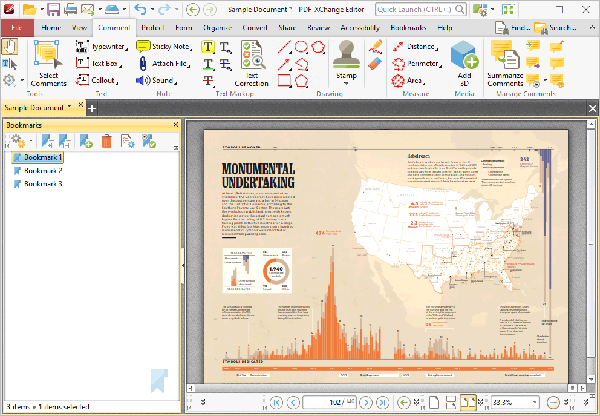 Developed by Tracker Software, PDF-XChange Editor is a freemium PDF reader, it means that it is a free-to-use app with the option to pay for the extra, advanced features. It has a simple user interface which should not give any trouble while you use it on your Windows 11 computer. If you ask us, the free version of this PDF reader makes more sense because it provides almost 70% of the total features available on the platform and just 30% is left to buy. This '70%' is not a combination of just some basic tools but also has many greater features within it. Along with all the basic features that are required in a PDF reader app, you also get OCR options, Document signing, Typewriter mode, Shell Extensions, a Document Search, PDF exportation, experimental PRC support, and duplicate documents identifier. The app also lets you customize the in-app experience by customizing the toolbar and even the editing pane. The paid version of the app offers 96 licensed products, which is something that would surely attract many users. But if you are not in need of those features, it is recommended to try the free version first because it has many features which the other platforms lack and that too for free.
Download PDF Xchange editor for Windows 11
9. Slim PDF Reader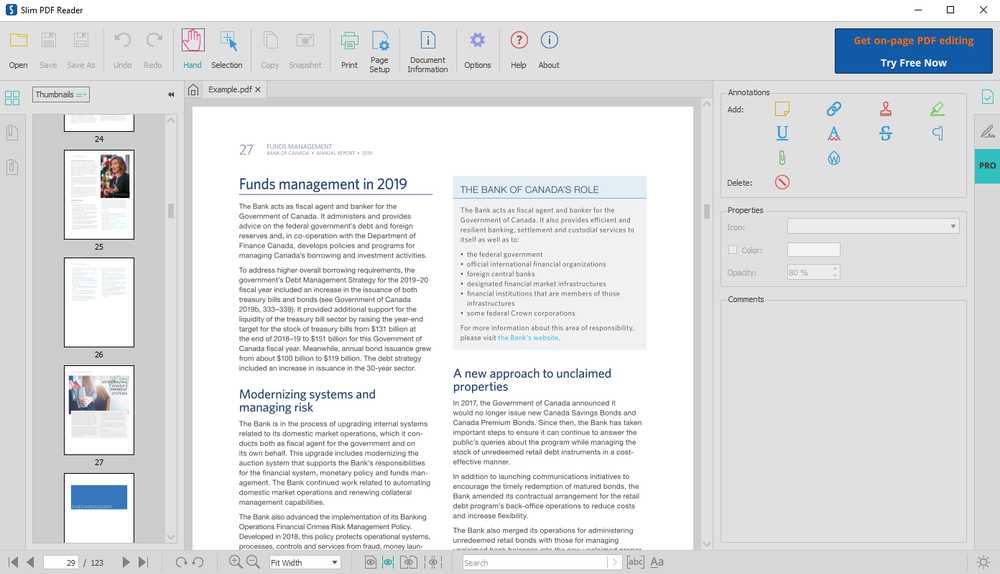 With taking just 15 MB of space per disk, Slim PDF Reader lives up to its name by providing all of its services too. Investintech.com PDF Solutions brought this fabulous PDF reader to light and since then, it has been a charm for many. This PDF reader is compatible with Windows, Mac, and Linux. Slim PDF Reader is also a freemium PDF reader that provides some basic features with its free version and for the advanced features, you will have to get the Able2Extract Professional 16 license. With the free version, you can view, edit, comment on, fill forms, annotate and sign digital documents. The platform provides a clean user interface with no bloatware and an added light & dark theme too. Though the free version is complete and good enough in itself, the paid version may also be a good deal for many. It boasts features like converting PDFs to another document format and vice versa, that too for many document types. It takes editing on a different level too with options like merging, adding images, vectors, and bates numbering too. With the paid version, you get the ability to compare two different documents, side-by-side and many more tools too. So, give it a go and know for yourself which version suits you better.
10. Nitro PDF Pro
This PDF reader is expensive, like, seriously expensive. The basic price starts at $180…yup, keep calm. But this price can be justified when you come to know that you are buying the one-time license for the PDF reader which can then be shared by up to 20 devices. So, this may or may not be expensive, depending on the type of user you are. It has almost all the basic features which are required for a good PDF reader for Windows 11 with something quite unique in itself. It offers a Microsoft Office look-alike interface while working. It means that even while using a third-party app, you'll get the feel of using a Windows app only; a great idea I'd say. You can create, view, edit, share, annotate, comment on different PDF files while also being able to merge and convert different file formats to PDFs and vice versa. Furthermore, you can even integrate cloud storage in the app and sign documents digitally. This PDF reader app is recommended for small business firms too. 
11. WPS Office
One of the greatest offerings of Kingsoft, WPS Office is one of the most widely used and preferred document reader apps. It is a free-to-use app, not only to work with PDFs but with almost every single document format. It provides a lot of features with a clean user interface that resembles Microsoft Office in many ways. There is nothing that you can think of and WPS Office won't be able to make it happen when it comes to working with documents. You will have the most advanced features such as converting PDFs to other file formats and back, that too for completely free. WPS Office is probably the best one in the market and it still keeps improving more and more. It also boasts an OCR which is usually a luxurious tool that is found in paid apps only. So, we are pretty sure that you will most definitely like Kingsoft's WPS Office once you start using it.
Ready to Pick the best PDF Reader for your Windows 11?
Hence, we have mentioned all the best PDF readers that are available on the Internet now and there is a high chance that one of them is going to end up on your Windows 11 device. This was the list for the best PDF reader for Windows 11, make sure to choose wisely. All of these apps are great in one way or another so according to your usage and requirement, you will have no problem finding the most suitable one for you. Let us know what you think of the list or if you have any questions.