Looking for the best Email apps to use on your Windows 11 PC? You are in the right place. Communication forms the base of the world where we live today. Not only us, but every single living being communicates in one way or another daily. Can you think of a way in which we can survive without communicating at all? Nope? That is the significance of communication.
Email apps had come a long way from the days when they were simply a place to store messages. Now you can use them to manage your inbox like never before—whether that means keeping up with important tasks or sending messages in beautiful ways that make people smile. And many different email apps are out there to help you do all that. But which ones should you choose? We've rounded up the top 10 email apps for Windows 11 so that you can find an app that works for you and your needs.
Best Email client for Windows 11
E-mailing is one of the most popular and widely used communication platforms for all devices. So, which app do you use for E-mailing? Not sure yet? No problem, we have prepared a list that consists of the best E-mail apps for Windows 11 and we are absolutely sure that one of these apps is going to be your personal favorite, soon enough. The list is not based on any ranking, because all of these apps have their own benefits and drawbacks.
What's better than a good e-mailing app for sending e-mails? No idea? A good e-mailing app that is solely optimized for your Windows 11 device, is perfectly compatible with it, and provides a smooth, user-friendly experience. Nothing can beat such an app…right? Windows Mail and Calendar is a two-in-one app that lets you use an E-mailing app, as well as a calendar too. Though this app is always overshadowed by other e-mailing apps, it has its own set of great and useful features which can make you fall for the Windows Mail and Calendar app. It allows you to tag and mention different e-mail addresses. It means that while sending an e-mail to someone, you can tag or mention another, 3rd person in the same e-mail…surprising, isn't it? Windows Mail and Calendar app even let you pin any inbox of your choice to the Start menu. This can be really helpful if you want to access any important inbox as quickly as possible. You can also connect to different inboxes together. One, of its most amusing features, is that it offers an option to merge your different E-mail accounts, whether they are created in Yahoo, G-mail, or any other platform. So, give it a shot because it does not even have to be downloaded. You can find the Windows Mail and Calendar app pre-installed on your Windows 11 computer.
Microsoft Outlook is a popular email and calendar program among the top 10 Email Apps for Windows 11 that allows people to manage their email, schedule events, and keep track of their tasks. The program helps users stay organized by letting them create folders to organize their emails and files, set reminders for upcoming events, set up task lists for projects, and more.
Features:
Offers free access to its calendar and email services as well as spam and malware filters
Delivers 15 GB of mailbox storage, 5 GB of OneDrive storage,
Has Web versions of premium Office programs like PowerPoint, Excel, and Word.
Mobile versions of Microsoft Office are also available, allowing you to work wherever you are.
Price:
It's free email software for small-scale use.
The outlook 365 extended upgrade version's monthly costs start from $5.99.
Drawbacks:
Not affordable unless you possess a teaching or educational credential/license.
Get Outlook from Windows Store for $159.99
Search for Outlook on your Windows 11 computer and you will find it there until and unless you have not uninstalled it. Outlook is probably the best and most favored E-mailing app for Windows and it definitely deserves that title for many reasons. Outlook is a great, free e-mailing app and it works charmingly well for personal use. It can even be used by small businesses but if you want any higher-end features, you can opt for its paid version, Outlook 365 after purchasing Microsoft 365. With the free version, you can use the e-mailing as well as calendar features, 15 GB of storage space in the mailbox, and 5 GB of storage space on OneDrive too…isn't it great to have these many things for free? But that's not all; you will also get a web version of premium Office applications such as PowerPoint, Excel, and Word with the free version of Outlook itself. Now for the premium version, everything that is included in the free version is just made more premium along with the ability to protect OneDrive from ransomware. So, this app should be tried at least once on your Windows 11 computer and there's a high possibility that you may end up liking it a lot.
Bonus: Best 15 Fake Email Address Generator Websites
You can access Gmail by visiting gmail.com in any of your Windows 11 browsers.
Does Gmail need an introduction? Nope and that's because we all know how famous and capable this e-mail client really is. It is easy to use, has a simple and user-friendly interface, and above all, great usability. Gmail is a free-to-use app that has been around for the longest and is preferred by the majority of users. It does not have anything extraordinary or something that makes it unique. Then why is it so much good? That's because it is the best at whatever it does. Gmail simply lets you send and receive e-mails with a few little extra features. The best part about Gmail is that it is freely customizable, thanks to its compatibility with other third-party apps. All in all, Gmail is hands down a great choice for e-mails and has no major drawbacks. Hence, you must try it for once.
Thunderbird is a highly helpful cross-platform email software that is free, open-source, and compatible with Windows 11. It includes features like calendar integration, address book management, message filters, and a search tool.
Features:
One of the easiest email applications to use is your personal information manager, news reader, Feedreader, and chat client.
Supports email accounts with private domains, Office 365 accounts, and Gmail accounts.
It can compress huge files due to Thunderbird's robust file management features.
Mozilla capitalized on Firefox's advantages by adding online searches to Thunderbird.
Price
It's a free email app for users.
Drawbacks
Does feel outdated
Declining progress
Get from Microsoft Store for $9.99
Mozilla's Thunderbird is a free E-mailing app that can be used on Windows 11 and has many amazing features which can't be overlooked. The interface is quite simple and user-friendly but, it does not look modern at all. It gives a nostalgic, old-school vibe and we would recommend this to every user who wants this old-school feeling while using this app. For others, it would be better to customize the app however you like it to be. Upon suitable customization, this app has everything you'll need for a great experience. Being an open-source network, Thunderbird provides a variety of features such as a quick filter toolbar, message archive, search tools, smart folders, etc. Thunderbird is really good at managing and arranging add-ons, large files, and junk mail too. With this app, you have no need to worry about your files and privacy since they are always secure against phishing.
Postbox is a premium email program, but you just need one license to use it on any device and full access to the updates and upgrades for the rest of your life. Additionally, you can give Postbox a 30-day free trial before making a significant choice.
Features:
Postbox manages and organizes your email, which also protects your privacy.
It has a user-friendly layout.
A powerful Search tool option has been provided.
You can switch to a conversational view of your emails, use tabbed workspaces, personalize display names and adjust themes in Postbox.
It also gives you keyboard shortcuts for quick commands like editing photos or working with smart folders—all while scaling to fit all screen sizes!
Price:
Thirty days free version available for users.
For upgradation, it requires $59 annually and can be used on multiple email accounts.
Drawbacks:
No mobile apps are accessible.
Customer service might require improvement.
Try Postbox for free in Windows 11
Postbox is a one-time investment app that provides you countless services and features for a lifetime, even over multiple devices with a single license. If you are not so sure about purchasing the app's license directly, you can try it for free for 30 days! Then, it will be easier for you to make your final decision. Postbox pledges to protect your data and e-mails from any malice, tracking, malware, or anything that can affect you or your privacy in a negative manner. It can even categorize useful and junk e-mails separately. This will be a great help for you as you'll then be able to delete those unwanted, junk e-mails easily. Postbox also gives around 70 ready-to-use, professional e-mail templates which will provide a different look to your e-mails and you will have a unique impression on everyone who receives them. Postbox has a very user-friendly interface that can please you in more than one way. Postbox also has many customization abilities such as editing themes, customizing display names, applying keyboard shortcuts, scaling, and editing images. But the fun part is…all of these features are far from being the full potential of the app because when you will use the app itself, your amazement would be on another level. So yeah, this e-mailing app makes you pay for it but, if you consider the features and usability of Postbox, the amount seems to be fair enough.
Another excellent email program, under the top 10 email apps for windows 11, especially for business use, is Missive. The platform maximizes efficiency with tools like group conversations that may be threaded and collaborative emailing.
Features:
It helps you manage all your mail, files, and tasks in one place.
It's a free mobile app and web app that you can access from any device.
It has an integrated calendar, task manager, document manager, and more, so you can easily manage your communication with clients and colleagues.
The app offers secure email services with end-to-end encryption and other security measures to ensure that your data is safe.
The app also supports many file formats, including PDF, Word documents, Excel spreadsheets, and even video files like MP4s or MOVs!
Price;
Free version available.
For starter, productive, and enterprise- the pricing is $14, $18, and $26 per month, respectively.
Drawbacks:
A constant stream of new updates without proper instructions to implement.
Boarding resources need improvement.
Download Missive app for Windows 11
Missive means business. Like, this is one of the most 'professionally operated' e-mailing apps on the list. This app is specially designed for work and if you are a working professional, this one is going to be a charm for you. This platform focuses mainly upon the productivity it can give to its users with extraordinary e-mailing features and threadable group chats. The missive has a free plan which can be used for as long as you want to; a Starter plan which has more features and capabilities than the free version and a Productive plan which can be something really astounding. Want to know an interesting deal? Well, if you buy any paid plans and are not satisfied with the service provided to you, the amount is easily refundable within the first 30 days of purchase…too good, isn't it? If you use Missive for an organization, you get 3 accounts at most while for an individual user, you get 2 personal accounts and 2 shared social media accounts. This free version can be used for as long as you wish to but, there's a catch. The free version of the app can only retrieve a history of 15 days at maximum. This means any e-mail, file, or chats will not be stored for more than 15 days. So, this can be a serious problem for many users. Furthermore, there are many features that can be used in both the free and paid versions such as Missive Live chat, calendars, collaborative writing, etc. With both versions, you also get a separate space for social media and SMS too. So, make sure to try the app once and see for yourself if this is the one that suits you the most.
eM Client Email App is a powerful and easy-to-use email client that lets you manage multiple email accounts simultaneously. It supports all major email platforms, including Gmail, Outlook, Yahoo, and Hotmail.
The eM Client Email App has many features that make it easy to use. One of the most popular features is its ability to integrate with your calendar and contacts. This allows you to see all your emails in one place without opening multiple applications.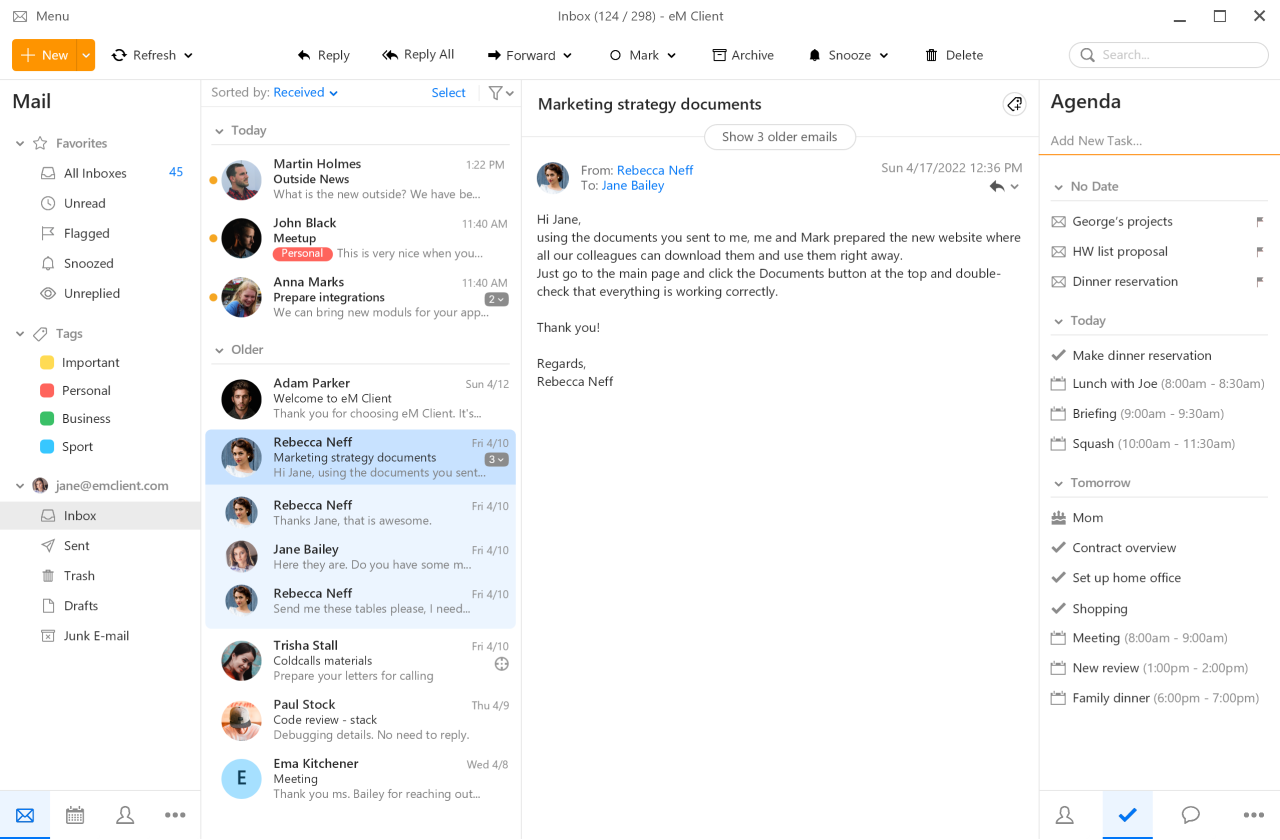 Features :
You can view, manage, and respond to emails for a maximum of two email accounts on one device.
For Pro users, it allows limitless accounts for both individuals and businesses.
It controls email, tasks, and calendars and offers VIP assistance for a full year and business use.
You can customize your email with eM Client's collection of personalization options, such as adjustments to the design, color palette, etc.
Price:
The eM Client's free version is available.
The pro account for single users starts from $49.95 with multiple licenses.
Drawbacks:
Two accounts are allowed for the free version.
The app sometimes doesn't update immediately.
Unable to support CardDAV or CalDAV.
eM Client is basically an app that won't provide much liberty with its free version but if you are ready to pay, it can do wonders for you. This might sound a bit harsh but yeah, you get the most basic functions with the free version like e-mailing, Calendar and that's pretty much it. But hey, eM Client is one of the most popular e-mail apps on Windows. Why? Because of the great offerings from the paid version. This app has a very productive approach along with some very lively features. The pro version of eM Client lets you create and use unlimited accounts for individuals as well as organizations. It handles everything from e-mails and calendars to commercial use and comes with VIP support for a year. The most brilliant pro features include options such as 'Snooze e-mail', 'Send e-mail later' and 'Watch for reply'. eM Client pro even lets you take notes for quickly jotting down anything and comes in really handy. You can even translate an incoming or outgoing e-mail from one language to another. Both of the paid versions, eM Client pro and the Company eM Client support 10 devices and 50 devices maximum, respectively. If the users want to exceed their maximum limit in any of these versions, they can contact the sales department and they might help their users. Pretty considerate…right? 
Download eM Client app for Windows 11
MailBird is a free, cross-platform email app among the top 10 Email Apps for Windows 11 that allows you to access your inbox from any device. It features a built-in task manager and calendar and an integrated chat feature so you can chat with your contacts without leaving the app.
MailBird also has several business-friendly features, like its ability to sort your emails by priority, flag them for follow-up later, create folders for individual clients or projects, and even set up rules for handling incoming emails.
Features:
Tools designed to boost productivity and cut down on inbox time, including apps, features, shortcuts, and software upgrades.
NET Framework (due to Microsoft) was used to create Mailbird. You can count on them to support all Windows versions.
Compatible with any Windows version that Microsoft still supports.
Price:
$1.34 per month or for a single purchase, it is $36.
Drawbacks:
Restricted email filtering options
Very limited search options
Download Mailbird for Windows 11
An E-mailing app that is really serious for anything it does. It is a 'pay to use app which has two different plans, a personal plan, and a business plan. Both of these plans have different costs and…yeah they are heavy on your pockets. But being expensive does not mean that they are not worth your money. Mailbird offers many things which you may not get in any other e-mailing app for Windows 11. The user interface is probably one of the bests on the list. It has the most fascinating feature, 'Speed Reader' which scans e-mails within mere seconds, along with a feature to snooze the e-mails. Mailbird believes in unity, a flock of birds, just like its name…got the joke? Right? Forget it! The point is, it lets you gather all of your inboxes within a single place so that you don't have to wander here and there for anything. You can even merge your contacts and SMS from all of your e-mail accounts too. It gives you the liberty to even integrate third-party apps such as WhatsApp, Facebook (now Meta), Google Calendar, etc. Mailbird also has some features for anyone who is signed in to LinkedIn. So basically, Mailbird is an E-mailing app for Windows while being more than that.
Spike is a newer e-mailing app for Windows which is not an e-mailing app solely. Confused? Wondering what does it mean? Spike understands the fact that e-mails do not necessarily need to be formal every time. Keeping in mind that e-mails can be fun too, Spike lets you send e-mails in form of messages. It actually feels like sending a message whenever you send an e-mail with Spike. The e-mails on Spike are more like a conversation between two users and those boring, formal e-mails can be replaced by them. It also has several essential features which are usually seen in chatting apps such as the option to unsend e-mails, snooze e-mails or save them to send them later. Besides, it is regarded by many users as the best bulk email sender. And this part is really interesting…Spike also has a 'read indicator' just like WhatsApp and Instagram which lets you know if someone has seen your e-mail or not, on the other side of the screen. These features when combined with the clean, easy-to-use interface, really give the users an ultimate experience. Make sure to try this app for understanding all of its merits.
Let's be clear, Newton Mail costs $50 per year, which is a huge amount for an e-mailing app, right? But, it isn't just some random e-mail app. Newton Mail, in fact, is probably the most powerful and feature-loaded e-mailing app for Windows. Newton lets you merge inboxes from almost all the e-mailing apps that you can think of like G-mail, Yahoo, Outlook, etc. It even lets you integrate many apps such as EverNote, OneNote, and Trello. You get the option to snooze e-mails and use the calendar for figuring out your working days too. Though these features are good enough, the app is much better than this and definitely deserves to be tried at least once. So, do you need to spend $50 on it? Not really, you can just try it for free for 14 days and see for yourself if this app is worth paying for or not.
Spark Mail is yet another outstanding email program for contemporary email users. The brand promises to restore your love for email.
Features:
Easy to use. Spark Mail is intuitive and easy to learn, so you can get right to work.
Built-in tracking (with no extra fees). Your team will love how they can track their progress and see what they're working on at any given time from anywhere in the world.
Free installation and setup. You don't need to worry about a thing—just sign up, download the software, and start using it!
No limits on storage space or the number of users.
Price:
It's free email software.
The Premium version starts from $6.39 per user per month.
Drawbacks:
Spark Mail is only accessible on Mac, Android, iPhone, and iPad.
Spark Mail– Download the app now!
The program organizes emails by color code and is exclusively accessible to Windows users. Because of its straightforward touch interface, TouchMail is simple to use and lets you scan several emails simultaneously.
Features:
Full access to your email, calendar, contacts, and more from any device (phone, tablet, or computer)
A mobile messaging app that allows you to text and calls your team members from any device
An app that lets you send and receive faxes from any device
A mobile CRM app to track leads and sales opportunities in real-time
Price
One-time cost starts from $29.99.
Drawbacks
lOnly compatible with Windows.
Account limits may be a problem.
The TouchMai download link is available here!
Hiri is a powerful email software that allows you to manage your inbox and messages with the utmost efficiency. It is a cloud-based solution, meaning you can access it anywhere, anytime.
This email software is among the top 10 Email Apps for Windows 11. It offers a number of features that make it easy to use while also providing an impressive level of customization and flexibility. In this
Features:
Inbox puts powerful tools at your fingertips that help you control, organize and manage large volumes of email.
The Compose box contains only the most essential options for creating a new message.
You won't be weighed down by pointless formatting or editing tools.
Price:
Seven days free trial available.
Annual licenses for $39 or lifetime licenses for just $119 per user are available.
Drawbacks:
Not all email accounts will be supported.
No mobile apps are available.
Hiri download link is here!
Inky Email is a powerful email marketing application among the top 10 Email Apps for Windows 11 that can help you grow your business. It has all of the features you need to create, send, and track emails for your business—and it's easy to use.
With Inky Email software, you can create and send professional-looking emails in minutes. You can even include images and videos within your emails to increase engagement with your audience.
Inky Email software also comes with an analytics dashboard that provides detailed information about how people are interacting with your emails. This includes details on open rates and click-throughs so you know exactly how well each campaign is performing.
Features:
The UI is bright and tidy, resembling how the Windows operating system looks.
It is highly intuitive, giving you a better knowledge of managing conversations and emails.
Phishing is eliminated owing to Inky's identity-secure encryption, which makes it impossible to forge emails.
Price:
Price details are not available on the official website, but free trials for limited days are offered.
Drawbacks:
Lack of a native email client.
Lack of pricing details
Inkey– download the app now! 
Why Email clients in Windows 11?
E-mailing has always been a great way to communicate in the world of computers. Though it is not as versatile and favorable as other chatting platforms, many companies, Government organizations, Banks, and other institutions also prefer E-mailing over any other communicating platform. E-mails are usually sent for professional, formal approaches and usually, users do not prefer them for casual chatting since there are better options for that. 
Ready to try these Windows 11 Email Apps?
Therefore, the list of the best e-mail apps for Windows 11 ends here. We have not arranged the apps in any ranking order, so do not think of the apps at the bottom to be worse than the rest. All of these apps are arranged randomly and they have their own qualities which will help you in their own unique ways. Though some of the apps mentioned above need to be paid to use, they too have their advantages which you'll understand when you try all of them.
Windows 11 is no longer just a way to get things done—it's a way to do them faster and more efficiently than ever before. And that means that the apps you use on your computer are more important than ever. With the right tools, you can get organized and start getting more done with less stress.
We hope these top 10 Email Apps for Windows 11 help you get there!